CBD oil can be taken under the tongue directly as a tincture. The correct use of CBD oil allows it to absorb quickly through the muscle tissues of the tongue.
This method of absorption may speed up how fast CBD oil enters the bloodstream allowing you to experience relief faster. Read on to learn more about it!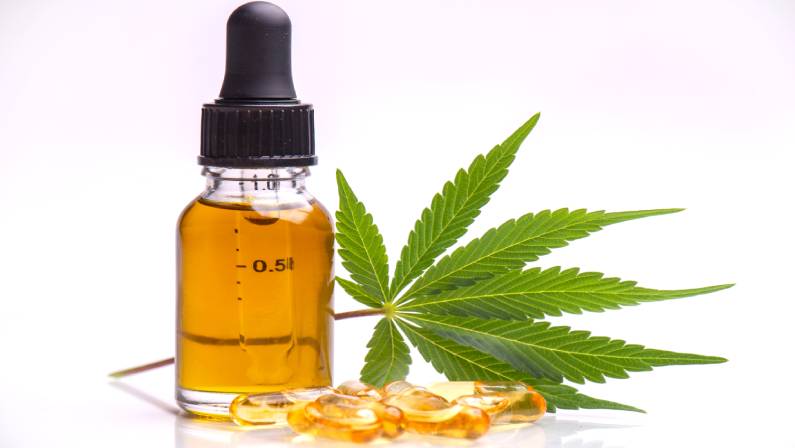 Cannabidiol (CBD) oil obtained by prescription is regarded as a successful seizure treatment. Chemically speaking, marijuana contains CBD. Tetrahydrocannabinol (THC), the psychoactive component of marijuana that causes a high, is absent from CBD.
The most common form of CBD is oil, but it is also offered as an extract, a vaporized liquid, and a capsule made of oil. Among the various CBD-infused items accessible online are foods, beverages, and cosmetics.
What Are CBD Tongue Drops?
Because CBD is readily absorbed by our sublingual glands, sublingual tinctures are an efficient way to consume it. Under the tongue are these glands. CBD oil can quickly reach your circulation through these glands by holding a tiny bit under your tongue for 30 to 60 seconds.
How To Take CBD Tincture Under Tongue
Consult your doctor before using a CBD tincture to determine the appropriate dosage and whether it can be used safely.
The procedures for ingesting CBD are as follows: 
Select a tincture if you want to sublingually administer CBD.
You'll need a tincture, which is CBD dissolved in a carrier oil, to apply CBD oil beneath your tongue (such as sesame or coconut oil). Typically, tinctures are offered in drops or sprays.
Sprays can be applied inside the cheeks or under the tongue, whereas tinctures are typically used as drops under the tongue. 
Avoid eating right before or right after taking the tincture.
The consistency with which the CBD enters your system can be impacted by eating right before or right after taking it. 
After using the tincture, wait 15 to 20 minutes before eating anything, or wait the same length of time after eating before taking your dose.
This does not imply that you should consume CBD oil empty-handed. In fact, consuming CBD when you are still full of meals can raise the level of CBD in your blood. It might also help the tincture enter your bloodstream more effectively if you brush your teeth shortly before using it.
The Right Amount Of Drops Should Be Placed Under Your Tongue.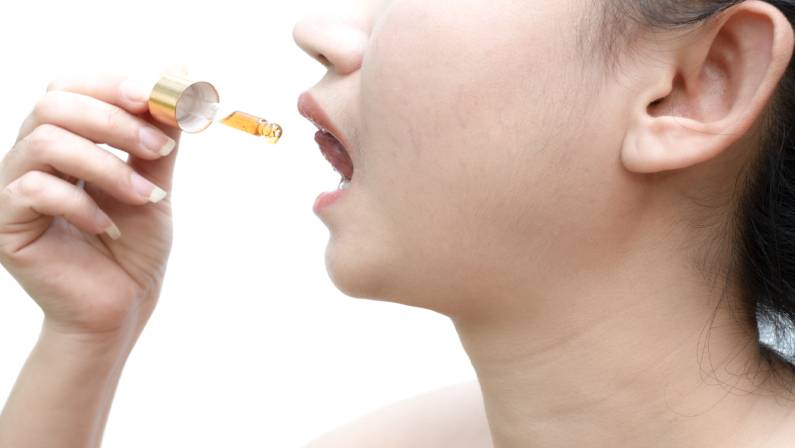 Use the prescribed dosage suggested by your doctor or according to the dosing directions on the product's box. Use the dropper to dispense the recommended amount of CBD tincture, then place the drops beneath your tongue.
Avoid placing the tincture on your tongue. You can unintentionally swallow it too soon and it won't absorb into your bloodstream as well.
Spray the tincture beneath your tongue if it comes in spray form. The amount of CBD in each spray puff should be indicated on the product's label.
Hold the droplets in your mouth for 30 seconds before swallowing.
To give the CBD time to reach your bloodstream and begin working, keep it under your tongue for at least 30 seconds. While holding onto the droplets, you could feel a buildup of saliva in your mouth, but try to fight the impulse to swallow.
Within 15 to 30 minutes, the benefits of CBD oil under tongue ought to become apparent.
One of the best methods to absorb CBD oil into your circulation is to put it under your tongue. However, it doesn't happen immediately. Within 30 minutes of taking the dose, the effects of the CBD should start to take effect.
Is Taking CBD Under The Tongue The Best Method?
The sublingual approach, also known as inserting a few drops of CBD under the tongue, allows it to enter the bloodstream through the blood vessels there, so you can maximize CBD oil under tongue benefits.
How Does CBD Oil Absorb Under The Tongue?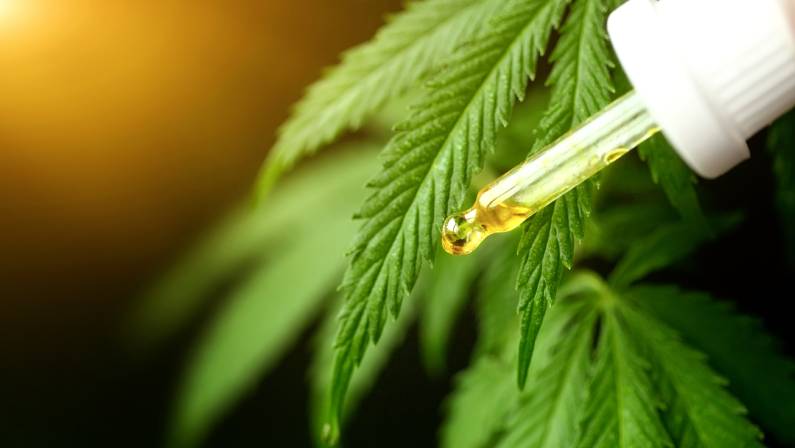 The thin mucous membranes beneath the tongue make it simple for CBD to be absorbed there. Drops of CBD oil can bypass digestion and enter circulation quickly if you hold them under your tongue for at least 60 seconds before swallowing.
How Long Does CBD Oil Stay Under Tongue?
CBD oil drops can bypass digestion and enter the circulation quickly if you hold them under your tongue for at least 60 seconds before swallowing. One of the various substances that the body can take in sublingually is CBD.
Is Holding CBD Oil Under The Tongue Safe?
CBD tinctures are much more advantageous than CBD tablets or oils when taken orally. Sublingual administration is one of the best and most efficient methods for consuming CBD due to its increased bioavailability and rapidity, as well as the fact that it does not carry a higher risk of negative effects.
How Often Should You Take CBD Oil Under The Tongue?
The frequency of CBD oil use varies from person to person and relies on a number of variables, including body weight and the severity of the ailment.
Most people take CBD oil sublingually once or twice a day, either in the morning or a few hours before bed, or both, although this varies. However, these times are not required.
According to the advantages you wish to give your body, talking to a competent nutritionist can help you determine the ideal time to take your CBD oil.
CBD Under Tongue Benefits
Here are the benefits of taking CBD oil:
1. Enhancing Bioavailability
Much of the raw CBD is lost after sublingual application because it avoids the metabolic process of digestion.
The amount of a chemical that can be used by the body is referred to as bioavailability, and it varies depending on the approach.
Inhalation is the only delivery technique for CBD products that has a better bioavailability than sublingual.
Similar to improved bioavailability, the effects of CBD tinctures taken sublingually can be felt considerably more quickly because the sluggish digesting process is avoided.
Taking CBD oil sublingually can produce results in as little as a few minutes, however, taking CBD orally can take up to 30 minutes.
The application under the tongue is simpler because there is no need to prepare the product or breathe in smoke or vapor. Simply put a few drops beneath your tongue, wait a few minutes before swallowing, and let your body take care of the rest.
Effects of Oral And Sublingual CBD Oil Ingestion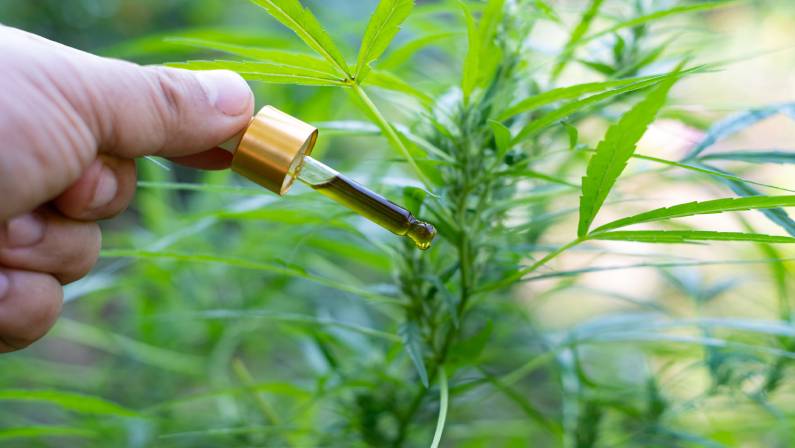 The potential adverse effects of using CBD oil sublingually are small and infrequent, although some users have mentioned the following:
Feeling A Little Numb Under the Tongue
Opposition to the CBD oil's texture
An intolerance to the flavorof CBD tinctures
What Happens If You Accidentally Swallow CBD Oil?
Your body won't be in danger if you accidentally swallow some CBD oil. You can no longer take a chemical sublingually once you've swallowed it.
Instead, you are ingesting it, which means that before your body can use it, it must be processed by your digestive system. Even while it's not harmful, this results in a lesser bioavailability and a delayed onset of effects.
Sublingual administration is one of the best and most efficient methods for consuming CBD due to its increased bioavailability and rapidity, as well as the fact that it does not carry a higher risk of negative effects.
With that, our goal at Atmos CBD is to offer upscale, top-notch CBD products at competitive prices at Katy TX, Richmond TX, and Crosby TX. The welfare of our customers comes first above all else.
Because of this, every one of our products is put through stringent third-party testing and is created using the best raw materials currently on the market.
Our dedication to providing excellent customer service also means that we are constantly prepared and eager to inform customers and assist them in locating goods that will be most compatible with their particular lifestyles.